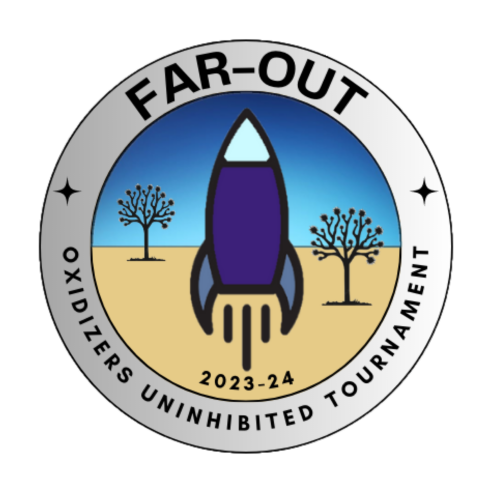 Introducing the 2023-24 Friends of Amateur Rocketry - Oxidizers Uninhibited Tournament
The Friends of Amateur Rocketry - Oxidizers Uninhibited Tournament (FAR-OUT) is pleased to announce that it will officially be holding its inaugural hybrids and liquids student rocketry competition at the Friends of Amateur Rocketry launch site in the Mojave Desert, California from June 5th to June 11th, 2024.
In this competition, instead of the traditional model of designing for a specific target apogee that the competition declares, collegiate student teams will design their rockets to be able to get as close as possible to a specific "contract apogee" that each team will set for itself. Teams are grouped for awards based on the contract apogee they are aiming for in the categories of Group A (5,000'-15,000'), Group B (20,000'-40,000') and Group C (50,000'-110,000'), as well as non-scored exhibition flights. Scoring is not split by motor type in this competition; all hybrid and liquid engines' abilities to reach the target apogees that a team will set for themselves will be judged together. The competition will also have a poster and podium session component to display all of the unique design and manufacturing each team has worked on throughout the school year.
Started in late June of 2023, FAR-OUT aims to be a competition that best suits the design needs of hybrid and liquid engines while boasting a transparent, non-subjective scoring system that emphasizes rocket motor performance and teams' technical expertise while pushing students to innovate new designs and foster the next generation of engineers and rocket enthusiasts. FAR-OUT strives to give students the best platform to showcase their year's work on their rocketry teams and give each team the best chance possible to get their rocket safely up into the air.
We are pleased to be partnering with the Friends of Amateur Rocketry, Inc. (FAR) to be able to provide a wonderful and well-equipped launch site in the Mojave Desert, 2.5 hours northeast of the Los Angeles International Airport and near Edwards AFB and Naval Weapons Station China Lake. FAR has been supporting innovative rocketry and local and international student teams since 2003 and have since built an unbeatable rapport within the rocketry community as leaders in propulsion research striving to widen the opportunities for healthy competition. FAR-OUT is the latest contribution to the myriad of competitions held at FAR including FAR-MARS, DPF, and FAR 51025.
Applications will open late August and continue to stay open on a rolling basis until November 1st. Full rules and requirements, as well as the application and details for joining as a volunteer are found on the website https://faroutlaunch.org. To contact FAR-OUT staff, please email faroutcompetition@gmail.com.
We are so excited to finally be able to bring this to the greater rocketry community, and we hope that you join us on this wonderful oxidizer-rich journey!